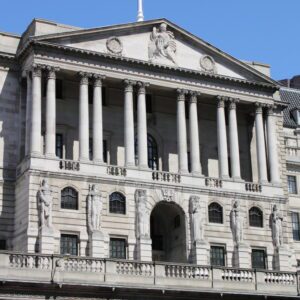 Experts expect that the Bank of England (BoE) base rate will rise 0.25 per cent next week to 4.5 per cent.
This will be the 12th consecutive month in a row that the base rate has risen as the Bank of England has faced months of inflation above 10 per cent and a country in the grip of the cost of living crisis.
It will undoubtedly add more costs to borrowers, especially mortgage holders.
Last month, the Bank's Monetary Policy Committee (MPC) voted by a 7-2 majority to raise interest rates by 0.25 percentage points to 4.25 per cent. This pushed the rate to its highest level since the 2008 financial crisis.
Most experts agree a hike by the MPC to 4.5 per cent will happen next Thursday  and some are predicting a further hike in June.
Samuel Tombs, chief UK economist at Pantheon Macroeconomics, said after no let-up in core price rises in March, he calculates that Consumer Prices Inflation (CPI) rose 9.1 per cent.
He said: "It's too soon for the MPC to declare victory – we now expect one final 25bp hike at next month's meeting."
Base rate hike 'is just about nailed on'
Experts at Deutsche Bank have said they expect the base rate to rise by 0.25 percentage points and the MPC's guidance to have few changes. It is also predicting one more rate rise for this half of the year in June, to 4.75 per cent.
Sanjay Raja, senior economist for Deutsche Bank, said the rise "is just about nailed on" because the labour market at the moment is too tight.
The decision is based on lots of factors including gross domestic product (GDP), which he said was "an emerging cause for concern for many on the MPC in March".
Inflation will also be central to the decision next week along with wage projections. Raja said the bank's medium-term inflation predictions will give some sense over how confident the MPC is about getting inflation back on track.
Raja also noted the BoE's latest credit data which showed a marked drop in household deposits along with a rise in deposits to National Savings and Investments (NS&I).
The bank also said that price data at the moment is precarious because bonus payments from March, cost-of-living payments, new public and private sector pay deals, and the rise to minimum wage have all yet to feed through into the economy.
'Little respite in view for those taking out a mortgage'
Laith Khalaf, head of investment analysis at AJ Bell, said there could be three rate cuts in the US by the end of 2023.
However, he warns that in the UK inflation is still in double digits, and in contrast to the US, experts are predicting one or maybe two further hikes to the base rate in the UK.
He said: "The UK's headline inflation rate is running around twice that in the US, so it's easy to see why we might have to swallow another few doses of monetary medicine.
"Food and energy prices are the main culprits in producing unavoidable inflationary pressure on households and there is growing disquiet about elevated food inflation, even in the face of falling wholesale prices."
Food prices in the UK are at record highs, up 17.3 per cent in April according to Kantar, yet another rate hike will put more pressure on households with debt who are already struggling with higher prices.
Khalaf added: "Certainly there appears little respite in view for those taking out a mortgage, and millions of people rolling off cheap fixed rate deals in the coming year will be in for a nasty shock.
"The silver lining, such as it is, is for cash savers, who will continue to enjoy reasonable rates of returns on their money after more than a decade in the wilderness. However, double digit inflation makes this a somewhat pyrrhic victory."
Article originally posted by Mortgage Solutions